How to make it
Country Room ! Everyone in their own bedroom, brings out the style that most distinguishes them. There are those who love the chic style, the more modern, the more ancient. In short, there is an embarrassment of choice! But what if we told you that even the country style can be perfectly compatible with your bedroom? For lovers of this unique style, we decided to create a mini guide. Focused precisely on how to create an inimitable bedroom !
So, arm yourself with pen and paper to note down the next tips. Our mini guide is about to begin!
The country : some notions
Before starting with the various tips on how to make a country room, we want to give you a general definition of what this style represents. Country means mainly two things: simplicity and wood. These two elements, if combined with criterion, can give rise to a really elegant and refined style.
Sleeping area and country style
But the question you're all asking yourselves right now is this: how can country style coexist with an environment like the bedroom ?
It should be pointed out that, in principle, the bedroom can have a different style than the other rooms in the house. In fact, it represents the most "intimate" place, which is why stylistic exceptions can be made. However, this does not detract from the fact that it is possible to homologate the bedroom to the same style of the house.
The country, in fact, allows you to do this!
The rules to follow in fact are really simple, considering that the goal is to create a romantic and elegant environment, in its essentiality.
The colors
But what are the colors to use to make your bedroom "country"? As is well known, the colors play a fundamental role, especially if it is an environment that must promote relaxation and sleep. Your palette, in this case, must be addressed to the colors that recall the rustic country houses. Among these we remember :
Pale green
Blue
Turtledove
Cream
Lilac
Dark pink
Gold ( for the most modern)
However, the colors are very neutral, solid colors (avoid prints, they could be excessive and not in line with this style).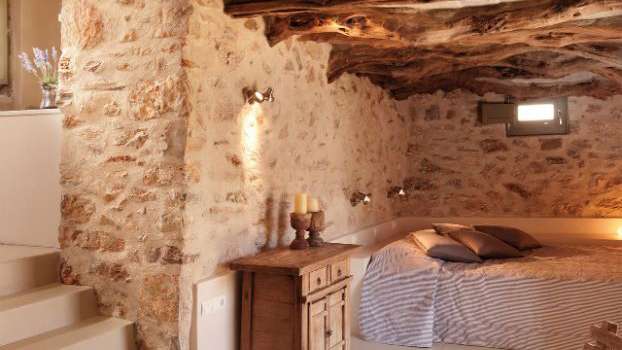 The decorations
Let's go from general to detail. What are the best decorations you can use to make your environment really country comfort? Among the various proposals, remember that the general line to follow is the one related to heat. Each element, in fact, must evoke heat. Then insert cushions (if you want with gold prints to give a modern touch), but also roots and branches converted into decorative elements. And if you are lucky enough to live in a house in the mountains, well, you can use the outdoor setting to create a sensational bedroom. How ? By exploiting the elements of nature (such as stones) and transform them into simple furnishing accessories.
So, are you ready to make your bedroom super country?