How to organize them
We know how shelves play an important role in every room, especially in the kitchen. Shelves are synonymous with order, organisation. Ideal allies for those who are obsessed with the control of utensils. But there are ways and means to organize and enhance the shelves in the kitchen. So if you want more advice on the subject, you just have to read the next lines !
Let's start !
Jar-mania
The cans are a fundamental element both in terms of aesthetics, but also in terms of utility not indifferent. Therefore, having placed them on a shelf, has a double value. Both to give emphasis to the same shelf of the kitchen, but also to have them at hand, without neglecting the aspect related to the order.
By colour
The colours are the basis of a perfect interior design. The home deco is mainly based on how to combine two elements: the colours and materials of the reference objects. In this case, the shelves, can give a touch of colour to your kitchen. How ? By placing objects with the same colour shade on them. It would be an excellent result, in fact, to be able to create a perfect shade with books, objects and kitchen utensils. The best way to create design on the shelves of your kitchen, with minimal effort!
Shelves without doors
What if we told you that you can use the shelves even without doors? Of course, it all depends on the purpose of the shelf. The products that you can insert, are those that can not be ruined by dust or, by the nature "open" of the shelf. No to food, yes to closed containers and books!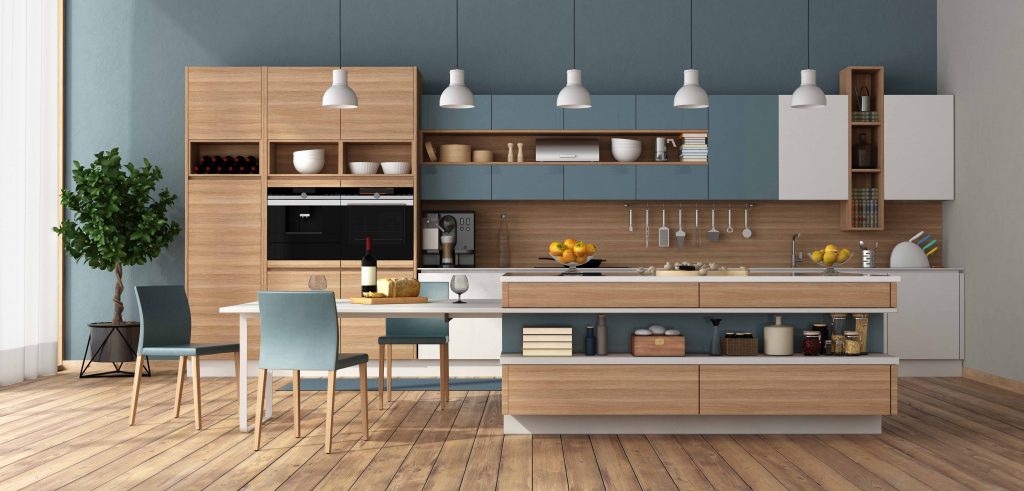 Alternative shelves in the kitchen
What if we told you that the industrial style can fit perfectly into your kitchen? Yes, it can. How? Thanks to the shelves! Choose materials like steel and simple lines. Just like the shelves in the shops, in full industrial style. On the 2020 catalogues, the industrial style is back in vogue. So, even in the kitchen, you can make the most of it, with a simple order, even online!
The audacity
When choosing colours, you must always be very careful. In the kitchen, however, if we talk about shelves, we need boldness! The shelf itself is a secondary element. As such, it can never become the protagonist of an environment like the kitchen. For this reason, you can have fun, both in terms of shape and colour. Obviously, everything must be compatible with the basic style. If your kitchen is modern, that will be the main road to follow for the style. Ditto for the other types.
And so, now that you know how to best organize and enhance the shelves in the kitchen, you just have to get to work. The result will certainly be sensational!