The smart working alternative
Can a prefabricated cabin really be a breakthrough for smart working? You'll find the answer in this mini-guide! Today we'll show you how design, technology and sustainability can create something truly unique. During the pandemic emergency, many workers had to adapt. They left their offices and organised their workspace at home.
As we have often said, lockdown periods have made us rediscover the beauty of nature. This is why many have chosen to relocate to houses with gardens. Or better still, located in green areas. But today's protagonist is an unprecedented structure. So, if you're ready, we can start our column!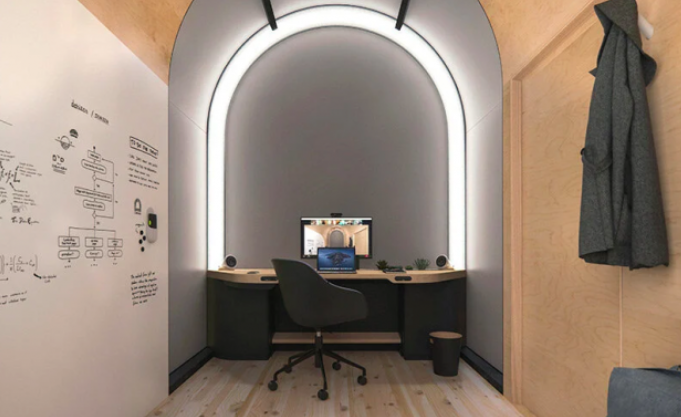 The project
What is the project and the objective of this study? To create a 3D booth to connect people to their work. Without neglecting the emotional aspect. The one related to the surrounding environment in which one is inserted. To try to make it easier for smart workers to work remotely, without preventing them from relaxing. Their motto? To make a day in a "Denizen" the best day of their lives.
Design
What characterises the design of a "Denizen" facility?
Let's start with the shape. It is a cubicle which, despite being small, is quite functional. Such as to guarantee a comfortable environment for those who use it. But at the same time it is small enough to be installed anywhere. In fact, considering its size, installation permits are minimal. The frame has been precisely manufactured, as have all the other components.
Credits: Denizen
This is thanks to 3D technology, which, as we know, is becoming increasingly useful in the real estate scene. And in the construction sector. And that's not all. In terms of sustainability, too, these cabins really are the best. Because they are 100% recyclable once their usefulness is over. But if you think that these cabins are devoid of additional benefits, you're wrong.
The advantages
In addition to the advantages listed above, 3D cabins offer:
Constant and enveloping lighting, which minimises the need for artificial light.
guaranteed privacy thanks to the ability to adjust the opacity of the windows
heating, cooling and air filtration system
blackboard for brainstorming sessions
-single point usb connection for all users
In short, nothing is missing in terms of technology either!
Price
As for the price, we have no information yet. But this type of living quarters will certainly become a valid alternative to the classic office. Anyone will be able to work in close contact with nature, with little impact and with all the advantages of social and environmental sustainability.
So, if you too are curious to know more about this and many other news related to real estate… stay with us! Every day we will give you all the information about the international real estate market and all the news related to it!
And you, would you ever live in a prefabricated cabin?